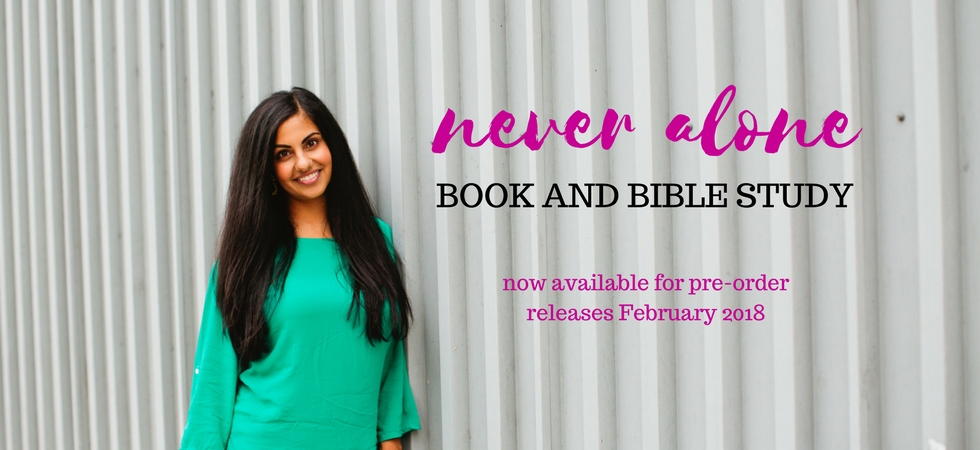 As many of you know I've been working away on writing a book and Bible study titled, Never Alone. It is for every woman who has found herself feeling like she may be left for what she's done, what's happened to her, or simply for who she is. Women today are more isolated than ever before, craving belonging and affection. More than anything, our soul craves Christ's companionship and each other.
Never Alone details honest accounts of what happens when we entertain and flounder in feelings of shame, fear, and isolation. The book invites you to lean into your pain, find healing and wholeness and walk in the grace and truth of who you were always destined to be. You get one whack at life, let it be one of joy and strength, love and connection, deeply rooted in Christ.
With that said, it's such a joy to invite you, my readers, in on my upcoming book launch slated for February 6, 2018. As we prepare to get Never Alone out into the world, it's time to create a book launch team of women from all walks of life who can hoot and holler, who can raise the banner of grace and claim that they too are never alone because of our Jesus, our Savior. Our Redeemer. Our Restorer.
You might be asking, "Tiffany, what is this launch team you speak of?" Let me explain.
LAUNCH TEAM
A launch team is a dedicated group of fabulous women that will be willing to help announce the release of the book and Bible study. They will share about the book/Bible study on blogs, social media platforms, and leave reviews on various retailer sites.
WHAT KIND OF WOMEN MIGHT BE A GOOD FIT FOR THE LAUNCH TEAM?
Are you eager to read Never Alone and pass it on to your girlfriends?
Are you somewhat tech savvy and regularly use social media? I mean, for more than just cat memes.
Do you have a blog? A podcast? A women's ministry? Or perhaps a realm of influence where Never Alone may serve your people? Your tribe?
WHAT DO WE REALLY DO ON A LAUNCH TEAM?
1) Read an early copy of the book before it hits stores, watch the first teaching session of the Bible study online, and participate in the first week of Bible study homework before it's released to stores.
2) Engage with your people online by posting about Never Alone on the week of February 6th, 2018. Include #neveralone. For the Bible study include #neveralone #biblestudy.
3) Share about the book and Bible study on your blog, ministry site, mom's network, podcast, etc. You'll be all set with links, images, and quotes.
4) Post a review of the book and Bible study on select retail sites. A free advanced copy (in digital form) of the book will be available to launch team members in January. You'll be free to read it and then share all the goodness tucked inside the pages.
You will also be looped into a private Facebook group with the other fab women of the launch team. You'll get the 411 on any activity and latest news around the book and Bible study and some other goodies. Oh, and I will LOVE YOU ALL THE DAYS. All of them.
WANT TO JOIN THE LAUNCH TEAM?
Click here to apply for the launch team.
We are looking for 100 women to join in on the fun!
I can't wait to get this book and Bible study out in the world alongside YOU! 
Never Alone is already available for preorder on Amazon, Barnes and Noble, Books a Million, Cokesbury, and other retailers.